At the very beginning of the year when I had first started my blog I wrote about remaking my entry way from this:
To this:
Looking back I realized that there is not one picture of my light fixture. It because I hated this ugly thing:
Ew.
Warning: Tangent
Some of my favorite blogs are
House Tweaking
,
Funky Junk Interiors
,
Knock Off Decor
and
All Things Thrifty
, here's why. I got married when I was 19. To some of you this might be pretty young but believe me, compared to my grandma who got married at 13 and was a widow with 4 kids well before she was 20, I waited. :) My whole family has gotten married pretty young. One thing about going form living at home straight to having your own home is that you don't really get to develop your own sense of style when it comes to your home.
We didn't have a lot of money when I grew up so we never went to stores like Pier One or Pottery Barn simply because my mom knew we couldn't afford the things that were there. Plus my mom kind of had a thing for forest green, teddy bears, gingham, and apples. I might not have known much about what I wanted but I knew I didn't want that. I would look through magazines and just about die when I saw the expensive price tags. Even the fiber board junk at Walmart seemed out of my price range. I had no idea what shabby chic was or how glorious it could be to find something old and make it new again. I simply didn't have the vision for it. So I bought the junk (not the makeover-able kind of junk) stuff I could afford and let my hubby help pick out paint colors.
Now, at a whole whopping 23 years old, I owe almost all of my inspiration to sites like those above. They introduced my to the idea of being myself in decorating, using things for what they work as not for what they are, and knocking off the big brands to get the look I wanted. In fact
House Tweaking's Mini Mudroom
was the inspiration for the entry way. Thank you ladies for being such an inspiration!
Because of these ladies I started subscribing to catalogs from high end companies (whom I had never heard of) and Restoration Hardware is one of my absolute favorites!!!! Oh to have some of the gardens and interiors that show up in my magazines!!! But the lighting is my favorite! Swoon!
Especially, especially, especially this one that was featured on the front cover: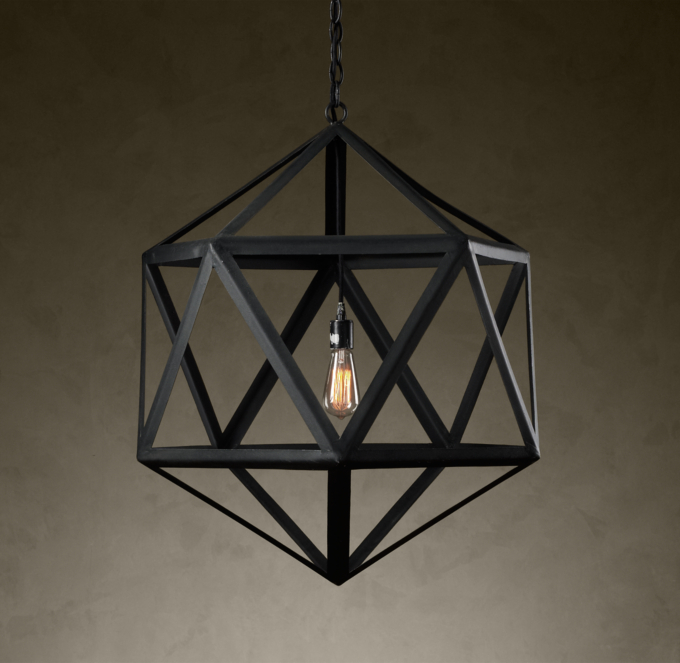 There are only 2 things wrong with it. One is that I don't have the $600 to buy and ship it and the other is that it doesn't give off enough light for me. Not to mention there was no way that it was going to fit in my entry way:)
So this is my $6 Restoration Hardware Knock Off Light.
Here she is before:
I got this gal at Habitat for Humanity. I know she didn't look like much at first but with a quick coat of Oil Rubbed Bronze and we were stylin'.
I was going to try taking out he glass to make it look even more like the RH one (plus bugs wouldn't have anything to get stuck in!) but those suckers were welded in there!
Here she is hanging up.
And there is no denying that it looks a million times better than in the previous occupant.
Zoom out.... (ignore the mess)
And look at all that light she gives off!!! Sigh. I could just stare at it all day!
It's going to be a while before I undo all of my self inflicted design damage but I'm learning.
Thanks to everyone who inspires me!
Linking to: