I have been working so much on cleaning, my "real" job, and selling Scentsy that I haven't gotten to put my room back together since we've painted it! Hopefully I will get that together this weekend. In the mean time here's a swatch of the color we painted the room - or pretty darn near it.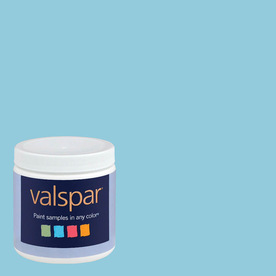 The paint I used was from Valspar but I got it with a bunch of other paint I got for a really screaming deal and it reads MISTINT across the top but I have the paper swatch for Sky Blue 3 and if it wasn't for the shadow you shouldn't know there was a swatch on the wall. My favorite part is that even though this is light blue it covered over that dark purple like it was nothing. UH-MAZING!!! This paint even made fall in love with the dark wood trim and furniture that I was bound and determined to sell! If you have dark wood and you hate it, give this stuff a shot! It's a miracle worker!!!
Pretty pictures coming soon!